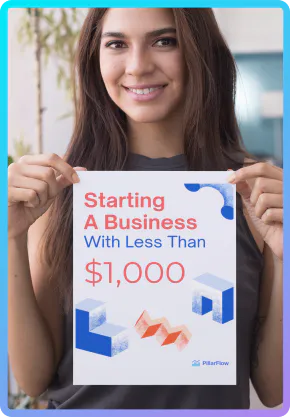 Note: PillarFlow believes people should be able to learn for free so we're supported by ads and affiliate products which help us earn commissions if you click the links below.
Introduction
Are you thinking about starting a business?
Do you want to get your business started fast without spending a lot of money or wasting a lot of time? Our checklist for Starting a Business With Less than $1,000 can help.
We understand that your time is valuable so we'll keep this article short. We also know that you could be watching random videos on YouTube or scrolling endlessly on social, media, but know that you're serious about starting a business the right way. Also, make sure you read until the end and download the printable pdf checklist which includes resources not mentioned here.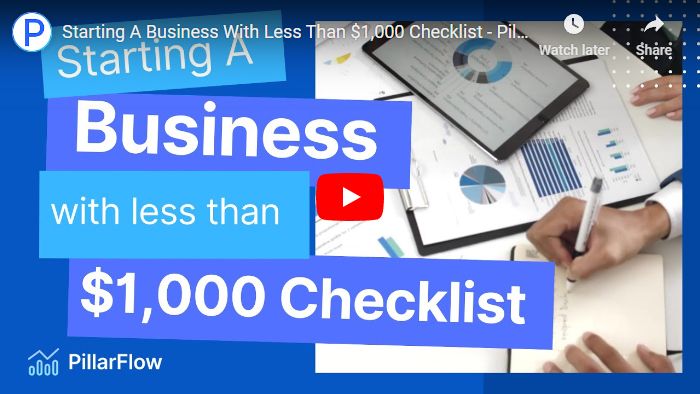 Preview of the Checklist
The checklist has several sections, including the following:
Before You Start
Start Your Research
Start Business Formation
Take Action
A Resource List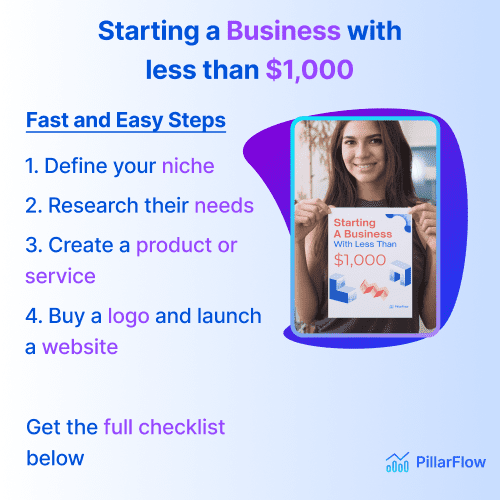 Who This Checklist For Starting A Business Is For
It's written for people who are serious about getting started fast. When I say fast, I mean in one day over about 3-4 hours if you have some business experience and 1-3 days if you have no business experience and only learned about the Internet and Google searches last week. If you're still debating whether you want to start a business, read our guide to the Alternatives to Starting a Business From Scratch.
Who This Business Starting Checklist Won't Be Able To Help
While our goal is to help as many people start a business as possible, there are many people we won't be able to help. We even know who these people are because we've had lots of experience with them over the years.
The following people probably won't get results from the checklist:
People who are procrastinators.
People who seek perfection as a way to avoid action.
People who get distracted easily by trying new and shiny things.
People who aren't willing to put in the time to be successful at something.
People who are addicted to checklists and courses but never apply what they learn.
People who don't check their email regularly.
Discount and free stuff chasers who don't invest money in themselves or others.
People who aren't willing to Google a question instead of just saying "I don't know" and quitting
People who aren't ready to ask for help.
Do you know what's great about these people and people in general?
It's that people can always change. They can always change their thoughts, habits, and actions to become who they want to be, so they get what they want in life.
We're also hoping to help the people we might not be able to help today but might be able to help tomorrow, next week, or next year. But we're not going to keep you here much longer without giving you what you came for.
Our Digital Products
The article continues below this feature.
Our store is currently under construction.
Before You Start A Business For Less Than $1,000
Realize that you must be very focused on how you spend your money. But more importantly, you have to consider how you spend your time. Always keep time in mind because you can get money back if you invest it in your business, but you can't get time back. So start by deciding how much time you have or want to dedicate to starting a business.
The amount of time you dedicate to your business can be a set amount of time per day or week based on your existing workload, family time, or other commitments. Setting this time either early in the morning, at lunchtime, or night helps add consistency and helps you develop good habits. And now that you have the time set aside for starting your business, it's time to start the actual work, which is business research.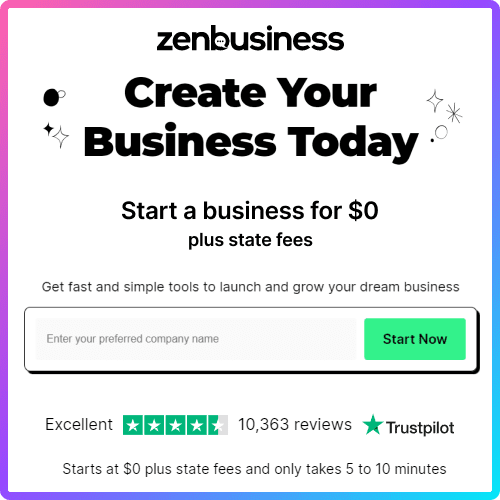 1. Start Your Research
Researching your business before you start is one of the most important parts of starting a business. Research is vital because it helps you know your options, decide on a business niche, learn about your target audience, and be informed about the products and services you will provide. As a result, research helps you build the foundation of your business.
The best thing about doing research today is that the internet provides many articles and websites just like this to help you get started. There are also lots of great videos, courses, and even people who you can learn from when researching various business niches to find out which ones fit your personality, which ones are seasonal, and what the most profitable business niches are.
While performing your research, make a list of the following:
Whether your business is a product or service
What industry your business niche is in
National, local or online competitors
Who your target customer might be
Ideas for a business name and website
This stage of your research might take time, but it is necessary for the next step of starting a business, which is business formation.
2. Form Your Business
Business formation might seem complicated, but it can be easy if you're starting a business that doesn't require special licensing or certifications. Additionally, with many online businesses, you don't have to form an official business entity at all because you can get started on freelancer platforms like Fiverr and marketplaces like eBay as an individual. Then in the future, you can always set up your official business later.
Remember that this is not legal advice, but we want you to know that you can start many at-home and online businesses without registering a company first. You can also set up a website, get an official email address, and create social media accounts for your business without setting up an officially registered business. And if you have specific questions, contact us, local business associations, or local universities. These organizations will often provide answers to questions and other resources for free. At this point, you probably haven't spent any of the $1,000 yet. We'll discuss that in the next section and in the downloadable pdf checklist at the end of the article.
3. Take Action
You can spend months or years researching, but eventually, you'll have to take action and start your business. We want you to start as soon as possible and get some easy wins. Taking action by setting up a website and a business email are great ways to feel like you are making progress while not spending a lot of time or money.
Once you have a website, you should set up a social media account or if you already have a social media account, share what product or service you're providing. No one can pay you for your product or service if they don't know it exists, which is why you have to market your products and services. By marketing your product and services online and in person, people will see that they can come to you when they need to pay to solve their problems. Additionally, you will become an authority in your business niche by sharing information, tools, and other resources that your target audience will find helpful.
After choosing a business name, setting up a website, and creating social media accounts, you should create an email list next. Email lists are still one of the best ways to communicate directly with your existing and potential customers. You own your email list and unlike social media, you don't have to rely on algorithms to reach your target audience with your resources, updates, and marketing.
What's In The Starting a Business for Less Than $1,000 Checklist
Printable PDF Checklist
4 Action Sections
1 Resource Section
Contact info for PillarFlow
How to Use the Business Starting Checklist
Read the whole checklist to understand it (3 minutes)
Write down or type 3-5 business ideas
Start Section 1 (5 minutes)
Finish Section 2 (5 minutes)
Decide on a General Business Name
Skip to Section 5 and create a Free Email Address and buy a Domain (which helps you feel like you're making progress)
Complete Sections 3-5
Ask Google, Bing, or the team at PillarFlow questions if you have them.
Extra Tips:
Don't overthink any of these steps because they can always be changed or amended later.
Pick a generic business name that you can use regardless of the business. This way, you can create a solid brand name as the foundation for your company and website. Of course, you can always rename your business or use a business alias in the future.
Download the Starting a Business Checklist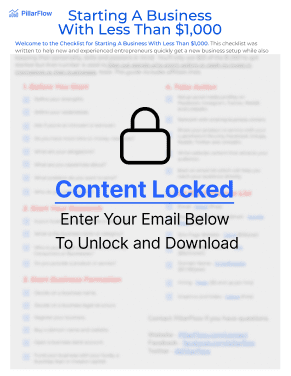 Unlock access to the content
Enter your best email, to get access and future updates.
Our store is currently under construction.