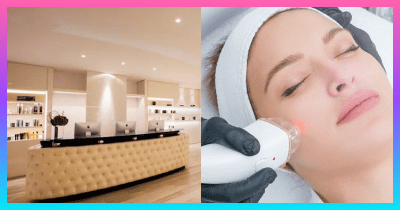 Note: PillarFlow believes people should be able to learn for free so we're supported by ads and affiliate products which help us earn commissions if you click the links below.
Author: Dr. Ali Naheed Ali, MD, PhD
Are you dreaming of starting your own medical spa but unsure where to begin? Starting a business from scratch can be overwhelming, but with the right planning and execution, it can be extremely rewarding. In this article, we will provide tips and strategies for successfully starting a medical spa business, from developing a business plan and securing financing to marketing your services and managing your team. Read on if you're ready to turn your dream of owning a medical spa into reality!
What Is a Medical Spa and Why Should You Consider Starting One?
A medical spa is a healthcare facility that combines the services of a traditional spa with those of a medical clinic. Medical spas offer a range of treatments and services supervised by medical professionals, such as dermatologists or plastic surgeons. It uses the latest and greatest non-invasive techniques, such as cryotherapy and mesotherapy.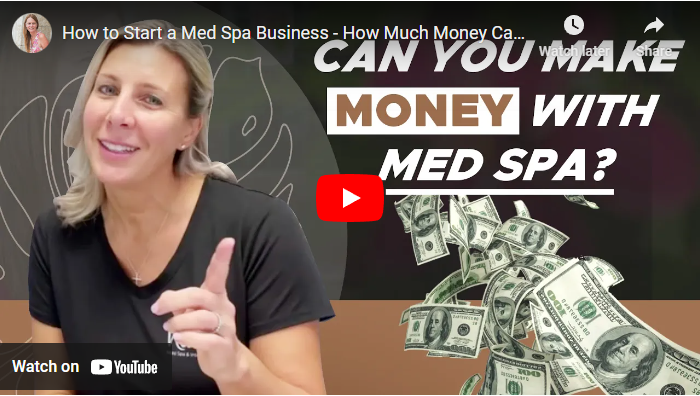 There are several reasons why you might consider starting a medical spa:
1. High Demand
There is a growing demand for non-invasive cosmetic treatments, and a medical spa can offer a wide range of services to meet this demand. Due the high demand, the US medical spa market is expected to grow at 13.8% per year through 2030 from a value of $16.4 billion in 2022 to more than 49 billion by 2030. And this growth is expected to be in line with growth in the medical spa market globally.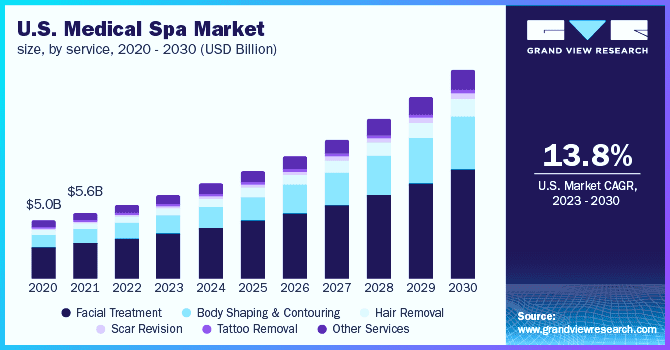 2. Higher Profit Margins
Medical spas often have higher profit margins than traditional spas because they can offer more expensive, medically-based treatments.
3. Potential for Partnerships
Medical spas can partner with medical professionals, such as dermatologists or plastic surgeons, to offer a wider range of services and tap into a larger pool of potential clients.
4. Flexibility
Medical spas can offer both medical and spa services, allowing for a greater degree of flexibility in terms of the treatments and services offered.
5. Opportunity for Expansion
Medical spas can expand into new locations or offer additional services, such as retail sales of skincare products, to drive further growth.
Sign up for our newsletter
Get our email newsletter for founders, entrepreneurs, business buyers and private equity investors delivered to your inbox once a week.
What Legal Documents Do You Need for Your Medical Spa Business?
It's important to have the appropriate legal documents in place for your medical spa business to protect yourself and your business. The following are some key legal documents you may need:
1. Business Formation Documents
Depending on your business structure (e.g., sole proprietorship, partnership, or LLC), you will need to file the appropriate business formation documents with your state.
2. Operating Agreement
If you are forming a business with partners, it is essential to have an operating agreement that outlines the roles and responsibilities of each partner, as well as how the profits and losses will be shared.
3. Non-disclosure Agreement
A non-disclosure agreement (NDA) is a document that protects your confidential information, such as business plans and financial data, from being shared without your consent.
4. Service Agreements
Service agreements outline the terms of service for your medical spa, including the services you provide, the fees you charge, and the duration of the contract.
5. Employment Agreements
If you will be hiring employees, it is important to have employment agreements in place that outline the terms of their employment, including their duties and responsibilities, compensation, and any non-compete or confidentiality provisions.
6. Business Insurance
It is important to have the appropriate insurance coverage for your medical spa, including liability insurance, to protect you from legal claims related to injuries or damages that may occur on your property.
It is always a good idea to consult with an attorney to ensure you have the appropriate legal documents for your medical spa business.
Our Digital Products
The article continues below this feature.
Our store is currently under construction.
What Are the Best Practices for Managing the Medical Spa Business and Maximizing Profits?
The following are best practices for managing your own medical spa business and maximizing profits:
1. Develop a solid business plan
Having a clear business plan can help you stay focused and on track as you build and grow your medical spa. Your business plan should outline your goals, target market, services offered, and financial projections.
2. Market your business effectively
Marketing is key to attracting new clients and keeping your business top-of-mind with potential customers. Consider using various marketing strategies, such as social media, email marketing, and local advertising, to reach potential clients.
3. Offer loyalty programs and promotions
Loyalty programs and promotions can encourage repeat business and word-of-mouth referrals. Consider offering discounts or special perks to loyal clients or running promotions to attract new customers.
4. Stay updated on industry trends and technologies
By staying up-to-date on the latest industry trends and technologies, you can stay competitive and offer your clients the most advanced treatments and services. This could include attending industry conferences, reading trade publications, and keeping an eye out for new products or techniques.
How to Hire and Manage Staff in Your New Medical Spa Facility?
The following are a few tips for hiring and managing staff effectively:
1. Clearly define job roles and responsibilities
Before you begin the hiring process, make sure you clearly understand the job roles and responsibilities that need to be filled at your medical spa. This will help you identify the specific skills and experience you are looking for in candidates.
2. Use multiple recruitment methods
To find the best candidates, consider using multiple recruitment methods, such as posting job openings on online job boards, networking with industry professionals, and hosting open houses or job fairs.
3. Conduct thorough interviews and reference checks
During the interview, ask detailed questions about candidates' experience and skills and ask for references who can speak to their work ethic and performance.
4. Provide ongoing training and support
Once you have hired staff, it is important to provide ongoing training and support to ensure they are equipped to provide the optimal service to your clients. This could include ongoing education, training, regular performance evaluations, and feedback.
5. Establish clear policies and procedures
Clear policies and procedures can help ensure your staff works efficiently and effectively. This could include guidelines for customer service, appointment scheduling, and handling complaints or problems.
How Much Does It Cost to Start A Medical Spa?
The cost of starting a medical spa can vary widely depending on several factors, such as the location, size, and scope of the business, as well as the type of treatments and services you plan to offer. Some common expenses to consider when starting a medical spa include the following:
Rent or lease costs for a commercial space
Equipment and supplies, such as lasers, injectables, and skincare products
Licensing and permitting fees
Insurance coverage
Marketing and advertising expenses
Staff salaries and benefits
Legal and professional fees
A good rule of thumb is to set aside at least six months of operating expenses before starting a business. Therefore, depending on your specific circumstances, the cost of starting a medical spa could range from tens of thousands to hundreds of thousands of dollars or more. It is a good idea to create a detailed business plan and budget to help you understand all the costs associated with starting a medical spa and ensure that you have the necessary funding.
Buying a Medical Spa Business
As an alternative to starting a medical spa from scratch, you can also use marketplaces like BizBuySell.com to buy an existing medical spa business. Their marketplace often features lots of medical spa and wellness businesses for sale across the US and many of them already have existing customers and cash flow. And the best thing about starting with an existing business, is that you can use the business existing revenue to qualify for funding from the Small Business Administration (SBA) or to attract investors. In our article Alternatives to Starting a Business from Scratch, we talk about buying businesses and other options entrepreneurs have when starting a business. In the image below you can see a highly profitable medical spa that qualifies for SBA lending and you can even use an SBA loan to purchase businesses like medical spas.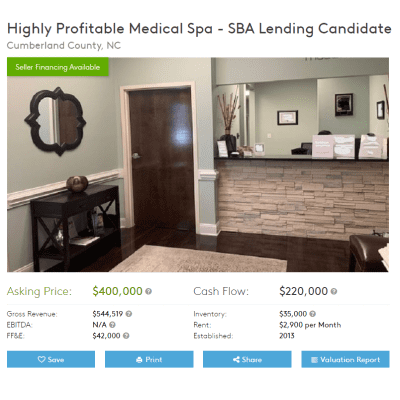 How to Make Your New Medical Spa Stand Out from the Crowd?
The following are some ideas on how to make your new medical spa stand out from the rest:
1. Offer a unique range of services
Consider offering treatments or services not commonly found at other medical spas. This could include specialized facials, unusual massage techniques, or innovative technology such as cryotherapy or LED light therapy.
2. Emphasize customer service
One way to stand out is to focus on providing exceptional customer service. This could include offering personalized treatment plans, going above and beyond to make customers feel comfortable and welcome, and following up with clients after their visits to see how they are doing.
3. Use social media to your advantage
Social media platforms can be a powerful tool for promoting your medical spa and connecting with potential clients. Use platforms like Instagram and Facebook to showcase your services, offer special promotions, and share customer reviews and testimonials.
4. Invest in high-quality products and equipment
Using top-of-the-line products and equipment can help set your medical spa apart from the competition. Consider partnering with luxury skincare brands or investing in advanced technology like lasers or radiofrequency devices.
5. Build a strong online presence
In today's digital age, it's essential to have a strong online presence. This could include having a professional-looking website, being active on social media, and getting listed on online directories and review sites.
How to Choose the Best Locations for Your Medical Spa?
Choosing the right location for your medical spa is a vital factor in the success of your business. The following are some tips for selecting the best location for your medical spa:
1. Consider the demographics of the area
Research the demographics of the area where you are considering opening your medical spa to ensure sufficient demand for the services you plan to offer.
2. Look for areas with a high concentration of medical professionals
Medical spas often rely on referrals from medical professionals, so it can be beneficial to locate your business in an area with a high concentration of doctors, dentists, and other healthcare providers.
3. Consider accessibility and visibility
Choose a location that is easily accessible to your target market and has good visibility, such as a location with high foot traffic or a visible storefront.
4. Look for a location with sufficient parking
When starting your medical spa, you'll want to make sure the location has sufficient parking space for your clients and staff, especially if your spa is in a busy area.
5. Consider the cost of the location
The cost of the location, including rent or lease costs, should be considered when deciding on the best location for your medical spa.
How to Find Affordable Equipment When Starting Your Own Medical Spa?
When starting your medical spa, one of the first things you'll need to do is find affordable equipment. This can be challenging, but it doesn't have to be impossible. The following are some tips for finding equipment that won't break the bank:
1. Shop around
This is the most important step in finding affordable equipment when starting your own medical spa. The best way to do this is by going online and searching for different suppliers, then comparing prices to ensure you get the best deal.
2. Consider refurbished equipment
Refurbished equipment has often been restored to like-new condition. When purchasing refurbished equipment, you can get everything you need at a lower price. This allows you to have a better profit margin and offer more services without taking out a loan or putting yourself in debt.
3. Look for package deals
There are some suppliers that offer package deals on equipment, which can be more cost-effective than purchasing each piece separately.
4. Rent or lease equipment
Consider renting or leasing equipment rather than purchasing it outright. This can be a more cost-effective option, especially if you are starting and unsure of your equipment needs.
5. Negotiate
Don't be afraid to negotiate prices with suppliers. They may be willing to offer a discount if you are purchasing a large amount of equipment.
6. Join a buying group
Consider joining a buying group that allows you to purchase the equipment at a discounted rate by pooling your purchasing power with other businesses.
7. Take advantage of financing options
Many suppliers offer financing options, which can help you spread out the cost of purchasing equipment over time.
Conclusion
Starting a medical spa from scratch can be a challenging but rewarding experience. A solid business plan, market research, and financing are essential to success. You should also clearly understand the legal and regulatory requirements for operating a medical spa in your area. Once you have these foundations, you can focus on building a strong team, establishing relationships with suppliers and vendors, and marketing your business to attract customers. With hard work, dedication, and a commitment to providing high-quality services, you can turn your dream of starting a medical spa into a reality.
Resources
Find a Business For Sell On BizBuySell
BizBuySell Search Results for "medical spa and wellness businesses"
Alternatives to Starting a Business from Scratch
Highly Profitable Medical Spa - SBA Lending Candidate
References
Wang JV, Albornoz CA, Goldbach H, et al. Experiences With Medical Spas and Associated Complications: A Survey of Aesthetic Practitioners. Dermatol Surg. 2020;46(12):1543-1548.
About the Author
Dr. Ali is a medical journalist and copywriter at HealthcarePropulsion.com.
Our store is currently under construction.
Sign up for our newsletter
Get our email newsletter for founders, entrepreneurs, business buyers and private equity investors delivered to your inbox once a week.